I absolutely LOVE Jim Thorpe.  I can't say it enough. It's just a beautiful town that offers an amazing backdrop and an old world romance to your wedding day.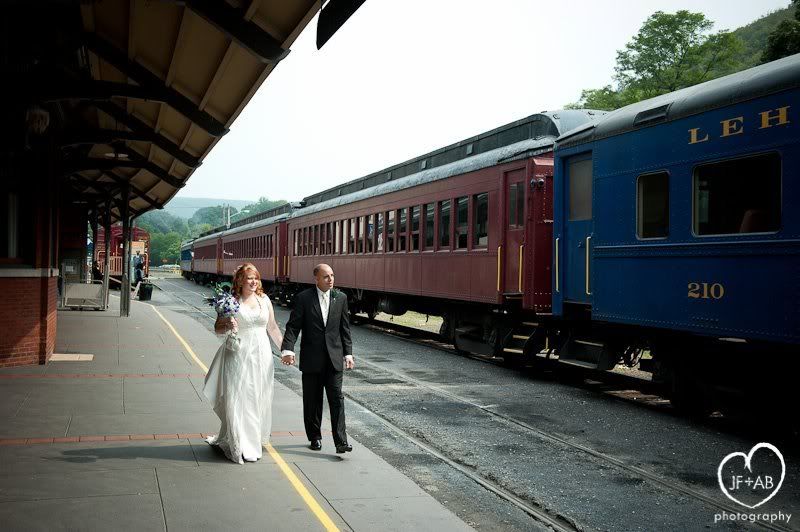 This past September 3 I had the privledge of being the planner for Courntey & Ernie at the beautiful Mauch Chunk Ballroom.  They were such a fun, loving and wonderful couple with two beautiful children to boot.  The photographs just came in, and so I had to share them for a few reasons. First Josh Finsel + Amber Breiner (JF+AB Photography) did such and AMAZING job on the photographs.  Secondly, the scenery in which they shot the wedding was amazing;  The Inn at Jim Thorpe, The Old Jail House on Broadway, the Jim Thorpe Train station, I can go on!   No matter which direction you look in historic Jim Thorpe, there is just so much beautiful scenery and all of it is filled with romance!
Then, of course, there is the gorgeous Mauch Chunk Ballroom that is housed in the Mauch Chunk Museum building.  DJ Adam Skuba of Skuba Entertainment offered some really awesome looking uplighting for the event, adding another layer of elegance an pinnache. 
I looked at these photos and fell in love with Jim Thorpe all over again.  I am so grateful to have discovered this little town and I'm happy to share it and it's romance with couples that come through here and chose this magical town to get married in.  I'm also grateful for the many talented photographers, cake makers, DJ's and Florists that I have the pleasure of working with. Please , enjoy some of the photos in the photo gallery compliments of JF+AB Photograhy!I